MM Finance lands in the Crypto.com App | Now you can buy FIAT currency
Another important success for MM Finance is the DeFi protocol which is already the one with the highest TVL within the Cronos Chain of Crypto.com.
The same exchange has just added it to the App too, which will allow users to purchase the project token directly and therefore spend fiat currency such as Euros or Dollars, or $ MMF.
We can, therefore, from today, also avoid going through the CEX and directly purchase this token, which remains one of the most promising of the ecosystem. We can find it on Crypto.com – go here to open an account with a $ 25 bonus as an incentive, an intermediary that allows us to make purchases on very large lists of cryptocurrencies.
In addition to the good selection of projects we also have additional services such as Supercharger and staking, great for passive income through our cryptocurrencies, in addition to payment card services whose benefits grow as our amount of $ CRO in staking increases.
MM Finance lands on the Crypto.com App
An important move by the cryptocurrency exchange Crypto.com in order to support one of the most important DeFi projects running on its blockchain. According to what was released by the group on Twitter, it will be possible to buy $ MMF directly on the App, which is the official token of the project. A move perhaps not surprisingly, given that the token was already inserted within the CEX, but still important for the user base that will have access to the purchase.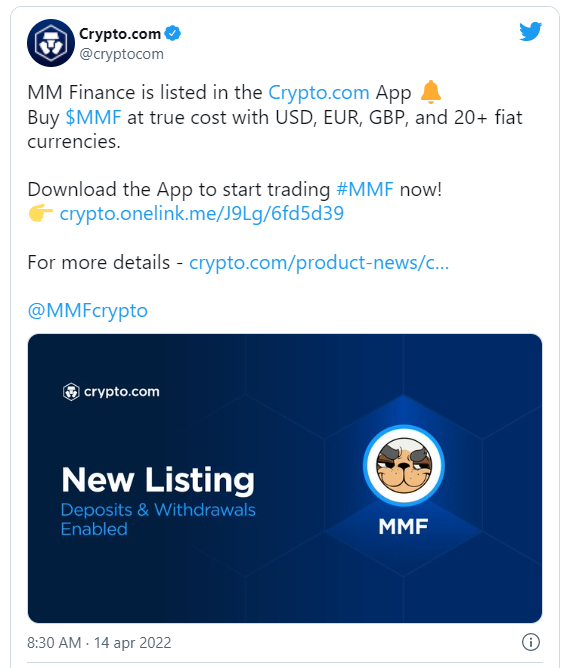 MM Finance is now listed on the Crypto.com App . Buy $ MMF at real price with USD, EUR, GBP and 20+ other fiat currencies. Download the App and start trading MMF now.
We have already said an important move, given the enormous number of users that this App can offer, thus significantly increasing the pool of possible interested parties in this specific cryptocurrency.
All this for a project that is already enjoying important success, both in terms of TVL, and instead in terms of interest, also active by specialists, for an ecosystem, that of Cronos Chain, still in progress.
Will it be a revolution for DeFi? It is too early to say, but we still believe we are facing something solid and, more importantly, one of the projects that will be able to bring Cronos to the center of the stage. All in relation to one of the most used exchanges in the world, and one of those that have the highest advertising spending even within very relevant events.
A brief recap on MMF
$ MMF has been part of our crypto investment portfolio from the very beginning after having studied it in-depth and after having proposed it in the studio to our readers.
We will undoubtedly continue to follow the future evolutions of this project, which will be crucial not only for itself but more generally for the entire ecosystem that revolves around Cronos Chain. From a point of view, we want to make public: greater competition within the DeFi space can only bring benefits to end-users and investors.
MMF seems to have the right numbers to start getting talked about even on the upper floors. Although he operates in a very crowded sector and where the competition is becoming increasingly fierce.