Do you want to buy and sell bitcoins or another top cryptocurrency? Follow Cryptonasa.com's daily analysis. Check out our complete Bitpanda review. Is currently one of the Best Exchanges in the world to understand the cryptocurrency market's trading potential.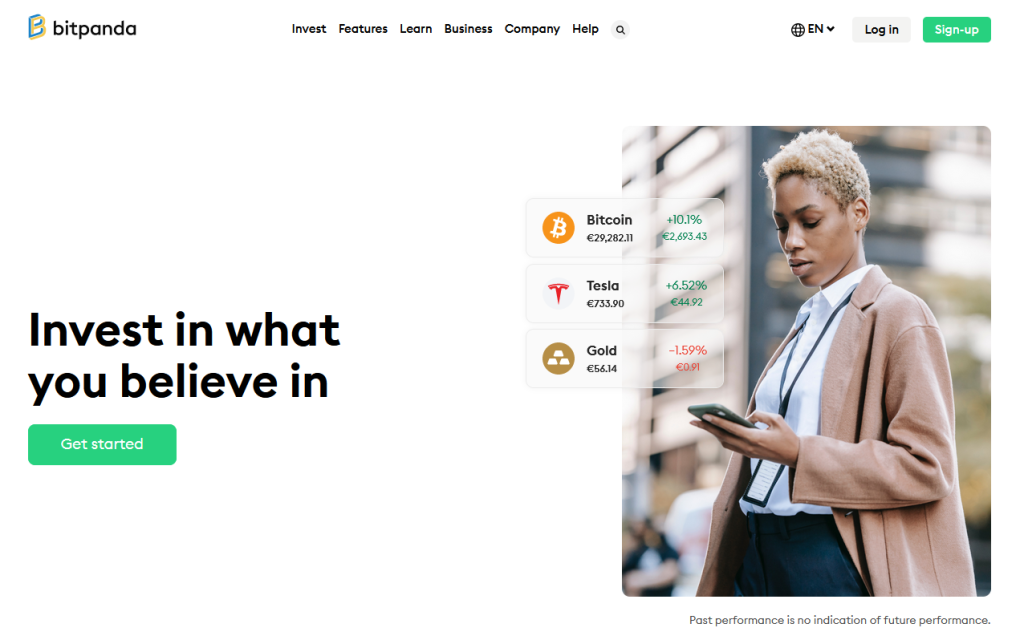 If you have no idea what it is, we invite you to read this complete review: at the end of the reading, you will discover how easy it is to get bitcoins (and other cryptocurrencies, ed ) in BitPanda is a cheap and safe way.
Exchange Bitpanda – Summary:
| | |
| --- | --- |
| 🌏 Official website : | https://www.bitpanda.com/ |
| 👍 Customer Reviews : | 4,7/5 |
| 🔍 Cryptonasa.com vote : | ⭐⭐⭐⭐⭐ |
| 💸 Fees and commissions : | Low 🟢 |
| ⚡ Open an account: | Sign up! |
| 🎥Videotutorial: | Gratis🟢 – Play! |
What Bitpanda is and how it works – Introduction to the exchange
What is BitPanda and how does it works
On the web, you can find many sites that will allow you to exchange a cryptocurrency with another or a cryptocurrency with a traditional currency. One of these is BitPanda ( here for its official website ), an exchange that offers BTC to its users, hoping to make profits at the end of the day through the use of exchange rates, commissions, and volumes traded every day on its own. service.
BitPanda is therefore a bitcoin exchange, an exchange platform that offers cryptocurrency to European traders through different deposit methods that investors can use to purchase bitcoins. The platform is owned by a company called Coinimal GmbH, an Austrian start-up based in Vienna, founded in 2014 and soon able to become a reference point for all those users who wish to trade bitcoin in a simple and (almost ) instant.
The platform works like any other exchange you can find online: it will allow you to trade EUR with bitcoin and other cryptocurrencies (such as Ethereum, DASH, and Litecoin ), within a qualified, reliable, and efficient process. Bitpanda review 2023
BitPanda payment methods
At the time of writing, BitPanda offers its customers different purchase methods that can be used to fund their account, with the consequence of using the balance thus created to be able to buy bitcoins and other currencies:
MasterCard and Visa credit cards: they will guarantee you immediate access to digital currencies, considering that transactions with payment cards need only 5-10 minutes to be completed (but, on the other hand, they have higher average rates);
Bank transfers: it is certainly the cheapest method to get to the possession of bitcoins, but it is also the slowest one, compared to credit cards (up to 5 working days);
Skrill & Neteller: these are two very popular electronic payment systems among European traders, and they can – as well as credit cards – allow you almost immediate access to cryptocurrency orders (but pay attention to the rates);
Cash deposits: these are special vouchers that can be purchased at BitPanda authorized stores throughout Europe (also in this case, pay attention to costs);
Other methods: from Sofort to Zimpler, from iDeal to Amazon, from Giropay to Eps, over the months BitPanda has added many withdrawal and deposit tools to its exchange, confirming itself as one of the most attentive platforms in this regard.
For more information click here and go to the official website.
BitPanda available in Europe?
To date, BitPanda services support all European countries, while other areas of the world may not be able to use their platform.
In any case, although European countries are all covered by the service, it is good to remember that some payment methods may only be available for some, and not for others. We, therefore, recommend that you take a look at the payment methods updated from time to time for our country.
Differences between BitPanda and other cryptocurrency exchanges
When choosing an exchange it is always a good habit to compare the service with that of other competing sites, in such a way as to identify the pros and cons more accurately. Hoping to please you, we thought of relating BitPanda with what is probably its biggest competitor, Coinbase.
Payment methods: as we have seen, BitPanda makes use of credit cards, bank transfers, electronic wallets, and cash deposits at affiliated stores; Coinbase has more or less the same tools, with a more recent opening towards PayPal, which is not however available all over the world;
Service availability: BitPanda is available in Europe. The international population reached by Coinbase is certainly larger, which in addition to Italy / Europe is also available in the United States, Canada, Australia, and some parts of Asia;
Commissions: BitPanda is certainly a very transparent service. He does not receive explicit commissions, but only charges that are already included in the price of the bitcoins that you can view on his platform. In part, it is Coinbase's operating policy itself, which however makes explicit its transaction costs for both bank transfers (1.49%) and credit cards (3.49%);
Tradable cryptocurrencies: BitPanda and Coinbase have opened their services to Bitcoin, Ethereum, Litecoin, and Dash (BitPanda).
In short, from the above comparison, it emerges that BitPanda can hold up well with Coinbase, one of the largest bitcoin suppliers in the world. Both platforms – moreover – require full verification of the identity of their customers in order to be able to operate regularly, while the rates of the latter service are on average higher than those of BitPanda, with transfers made with credit cards that cost 3.99%, against 2% for BitPanda.
Another difference is that Coinbase only offers three payment methods, bank transfers, credit cards, and PayPal (not everywhere), with the latter method not available in BitPanda.
Click on this link for the official Bitpanda website.
BitPanda Privacy
To be able to buy bitcoins through BitPanda, it is necessary to undergo a complete verification procedure which includes – among other elements – also the scan of a valid identity document, proof of domicile, and a photo of the holder of the documents.
It is a rather rigorous process, however not too long and which, above all, should not only not discourage or annoy you, but should be able to allow you to understand how serious and reliable the BitPanda service proposal can be.
The reason why the broker will ask you for your identity documents, in fact, lies in the fact that it is a regulated company, which applies the community laws that in the European Union require identifying customers in order to combat money laundering. dirt and other sanctioned activities.
In addition to the fully verified account, you can also open an unverified account: it is a form of deposit with lower levels of privacy and with some more limitations, which will allow you to immediately use the BitPanda tools, but with some constraints. – especially in the withdrawal phase.
In other words, we advise you to give your data with particular trust to BitPanda: this is a scrupulous procedure that will allow you to improve the serenity and security in the use of the operator's platform.
Go here and discover Bitpanda.
Speed ​​of BitPanda operations
Depending on the purchase method, the transaction on the BitPanda exchange can take from 5 minutes to several days. Electronic payment systems, as well as credit card purchases, are certainly the paths that will lead the bitcoins into your wallet as soon as possible (generally, within 10 minutes). Conversely, bank transfers can take between one day and 5 business days.
BitPanda fees / commissions
Transaction costs, unlike many other platforms, are not publicly displayed but are incorporated into the purchase price of the cryptocurrency. In the interface of the purchase page, you will therefore be able to notice the different amounts of bitcoins that you would get by clicking on the different payment options.
However, we can try to extrapolate and make explicit BitPanda's (implied) rates: by doing so, we find that the credit card purchase rates will cost you about 2% of the market value of the cryptocurrency, Skrill about 3. , 7%, Neteller about 3.6% while wire transfers are the cheapest methods, with commissions around 1.8%.
Click on this link for the official Bitpanda website.
BitPanda assistance
BitPanda customer support can be reached directly through a request in the ticket located at the bottom right of the page: a pop-up will open that will allow you to send your support question.
As a rule, the assistance staff contacts their customers within 24 hours from the moment they send the ticket, but from our experience, we can certainly remind you that the times are usually much more stringent and that within 2-3 hours it is possible. that you can get an answer.
In addition to the official support system, BitPanda employees are also active on other platforms, such as Reddit and bitcointalk.org where they respond to customer inquiries.
Is BitPanda Safe?
Since its launch in 2014, there have been no reports of scams or fraud related to BitPanda, nor have there been any reports of serious violations that may have compromised the deposited funds.
Today, after four years after the launch of the exchange, and after having used it for a long time, we can certainly say that not only is the platform safe to use, and the services have proven to be among the most reliable in Europe and around the world, but also that BitPanda is a solid operator, whose two-factor authentication complements the already known and appreciated security measures for its customers.
Go here and discover Bitpanda.
How to create a BitPanda account
If, on the other hand, you have not yet created a BitPanda account, before proceeding with the instructions that we wanted to summarize for you above, we ask you to wait a few more seconds: in fact, you will have to follow these instructions to be able to open an account on the exchange!
However, doing so is very simple, and it won't take you more than a few minutes. Plus, if you're wondering, signing up for an account on BitPanda is completely free, and the process itself is very intuitive.
So follow the steps below:
register an account on the BitPanda website by clicking on this link here and then going to " Sign Up ";
verify your e-mail address by clicking on the link contained in the e-mail sent to you;
you will also be asked to verify that you are not a robot by solving some simple operations;
once you have successfully passed the email verification, you will be redirected to the site and you will be given the opportunity to immediately access your account;
keep in mind that you can also use Gmail or Facebook profiles as a login (further shortening registration times);
Click on the account login button using your credentials.
How to buy bitcoin or other cryptocurrencies on BitPanda
If on the sidelines of our reflections you have well thought that BitPanda could be the right exchange for you, you just have to buy the new reference currency of your choice among those available!
But how?
The steps are really very simple, but we still thought of schematizing them for convenience:
Go to the official Bitpanda website at (just click on it) -> https://www.bitpanda.com;
Click on the menu under "Sign Up" to open an account;
after registering and verifying your account, the first step is to locate the "Buy" button; it is located in the upper central part of the page or in the "balance" section. Click on it to be redirected to the operational page;
select the bitcoin option and purchase method available at the time of purchase, and click on "next step";
now make sure to check the updated bitcoin value and the amount for the money you have chosen to invest before proceeding further;
check the payment method you want to use and proceed to the next step again;
provide your bitcoin address to receive the coins in your wallet, and then proceed to the last step where you will be asked to verify all the details of the transaction. If you are sure that everything is in order, click once more to confirm the transaction and it will be executed immediately.
Verify identity with BitPanda
Even if you have had the opportunity to access the account in such a simple and immediate way, it does not mean that you can already operate with all the features and for all the counter values ​​you want!
BitPanda has in fact verification and purchase limits that are organized according to the levels of operation. Currently, the exchange for example foresees three different main categories:
" Starter " requires a verified email that allows you to sell bitcoins in total peace of mind, up to the limits of the second level;
" Bronze " is the second threshold, and also requires the need to provide a mobile phone number (to be verified). "Bronze" allows you to make very small purchases, up to 50 EUR per day and 600 EUR in total;
" Gold " is the third level, in which a scan of a valid identity document and proof of address must be provided, together with a live chat;
However, you will be able to trade up to EUR 10,000 per day and EUR 300,000 per month.
Go here and discover Bitpanda.
Opinions of those who have used (or are using) Bitpanda exchange
Been to Trustpilot? It is by far the best service currently known to know the reliability of a product or service on the internet.
Trustpilot collects all the proven and authenticated testimonials from all over the world, giving a summary judgment on each main feature of the product itself. What do people think of Bitpanda for Trustpilot? The figures speak for themselves and are truly extraordinary.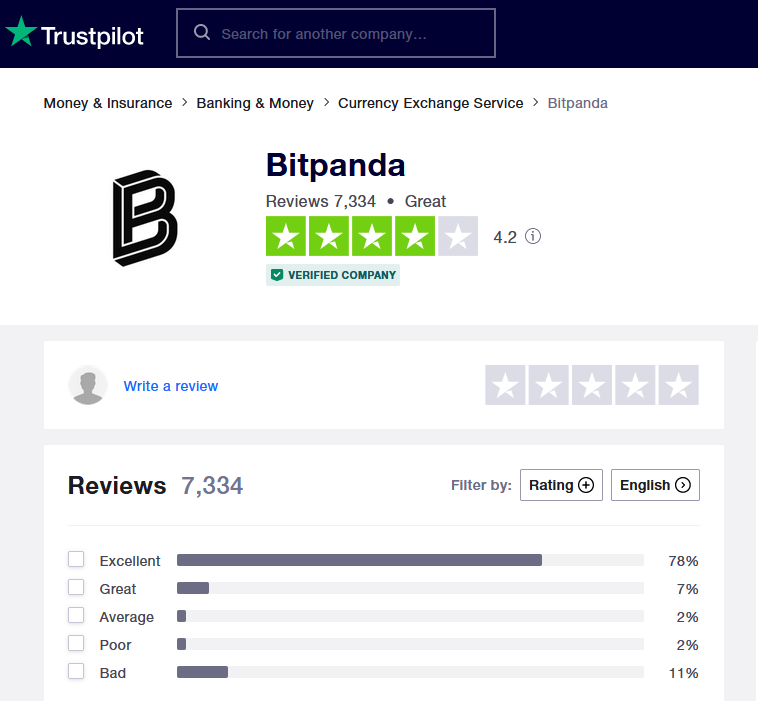 Over 4,400+ reviews with an "exceptional" average rating of over 77%.
The overall rating is 4.3 / 5 stars, a very high rate. I can assure you that it is by no means easy to have averages like this on Trustpilot, far from it. The data of its competitors on the market are much poorer, except for some (the best) that you can find in the dedicated table on cryptonasa.com.
Click on this link to discover Bitpanda.
Our final take on Bitpanda
At this point of our focus, we can only conclude by recalling how BitPanda is really an excellent exchange and, probably, one of the 3-4 best exchanges that you can currently find available on the market. Therefore, if you are looking for a valid and competitive service with which you can buy and sell bitcoins, your investigation may be over: experiment with BitPanda and let us know how you found yourself.
Open a free Bitpanda account here.