Crypto.com is a cryptocurrency exchange that has built advanced and unique services around the exchange of coins and tokens – from payment cards to reward systems for those who provide liquidity. All centered around its famous governance and utility token – $ CRO – on which you can invest or stake to get lower commissions and several exclusive benefits.

Crypto.com is the exchange with the highest growth rate and is already a prominent figure that could soon oust the most famous names in the crypto world from the ranking of transit volumes. It may be, for many cryptocurrency investors, the best one-stop exchange to buy, sell and even use their cryptocurrencies.
Exchange Crypto.com – Summary:
| | |
| --- | --- |
| 🌏 Official website : | https://crypto.com/exchange |
| 👍 Customer Reviews : | 4,98/5 |
| 🔍 Cryptonasa.com vote : | ⭐⭐⭐⭐⭐ |
| 💰Bonus: | $ 25 Free upon registration [ Get It Here ] |
| 💸 Fees and commissions : | Reset🟢 (Competitive spreads) |
| ⚡ Open an account: | Sign in! |
Who is Crypto.com and how it works – Introduction to the exchange
Who is Crypto.com
Crypto.com is a cryptocurrency exchange, which in addition to allowing the purchase and sale of crypto-assets, offers high-quality related services. The fundamental idea of ​​this exchange is to become a single hub for all cryptocurrency investors while focusing on both the exchange and a wide range of collateral services.
The main functionality of Crypto.com is to operate as an exchange or to allow the exchange between different cryptocurrencies. The system is one of those that operate exclusively to and from crypto – through extensive use of all major stablecoins.
Crypto.com certainly has the primacy when it comes to crypto cards – that is, very common VISA cards that we can use having our cryptocurrencies as a balance. The system, as we will see in the course of our review – is actually very sophisticated and developed on several levels. Important cashback and other types of benefits can also be obtained directly from the financial point of view.
Crypto.com also has one of the most complex and articulated reward systems for those who use it. From staking rewards to systems such as the Supercharger – there are many ways to put your cryptocurrencies to good use and earn passively as well.
Each new account has a $ 25 bonus – which Cryptonasa.com offers to all its readers. It is a good incentive for those who are starting out in the world of cryptocurrencies and want a little additional capital. It's not a fundamental choice, but it sure helps.
Great attention to emerging projects
Crypto.com also owes part of its enormous popularity to the ability to access emerging and very low-cap crypto products. Many of today's big crypto protocols made their debut right on Crypto.com, with choices almost always spot on by the group's team of analysts.
Many of the features, from the Pay program to the Cashback program, go beyond the world of cryptocurrencies, to enter that of the real economy. As it will become clearer later, Crypto.com makes it available to everyone, even those who want to open an account with a $ 25 bonus now – a cashback on purchases made through the card and rolling promotions and discounts. A great way to earn even more from your cryptocurrency use.
Crypto.com is also a leveraged exchange of excellent caliber for derivatives and very high leverage on all major listed cryptocurrencies.
Among the various features just activated we also find an NFT marketplace, on which we can buy and sell non-fungible collectible tokens.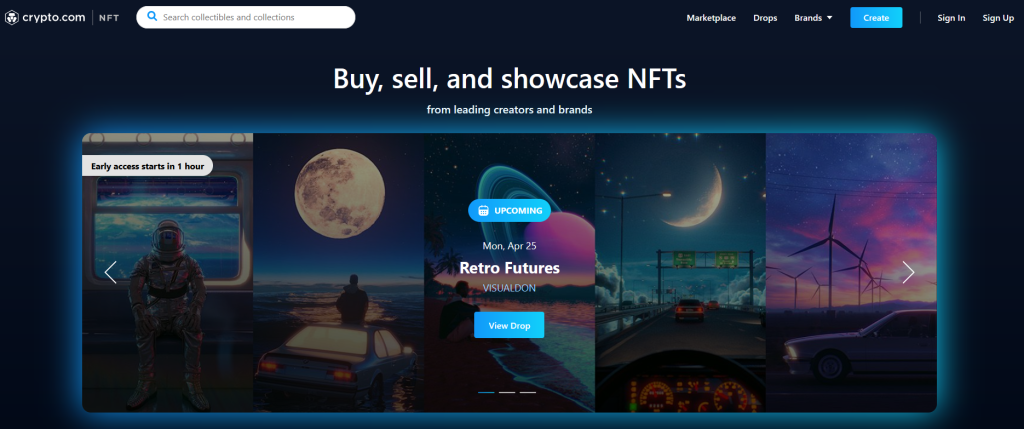 For the launch of this feature, artists and sportsmen of international standing have been involved – a sign of the fact that Crypto.com is betting a lot on this service.
How Crypto.com Works : Full 2023 Review
Crypto.com is one of the most complex exchanges in the world, which integrates services ranging from the sale of cryptocurrencies to loans, including cards and even the external cryptocurrency wallet, again via the App. We will evaluate all the services that are offered by this exchange, starting from the opening of the account and also moving on to the orders of cryptocurrencies.
Crypto.com video course by Cryptonasa.com – ​​How to use it
For those who prefer to follow a video course instead of the law, our site, Cryptonasa.com, has prepared live coaching on the exchange and its features.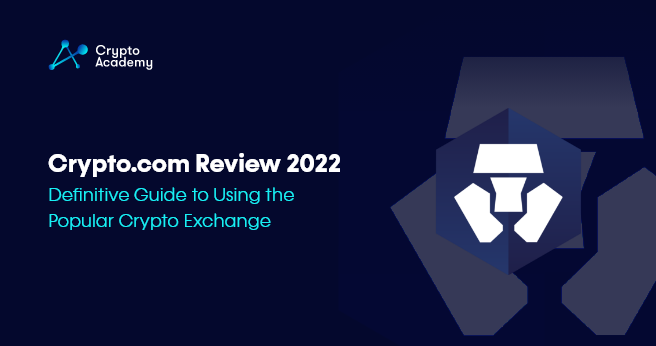 40 minutes in which all the broker's features are explained – with a very detailed analysis of what it has to offer in terms of services and features. As always with the quality and in-depth analyzes that push you to follow our site every day. There is also a practical live test for those who want to see how to trade with this exchange.
How to open an account on Crypto.com
Opening an account with Crypto.com is very simple – this exchange also minimizes the waiting for the necessary verification of our identity by the document.
The first step is to follow the link above, to go to the screen that allows us to register on Crypto.com. We can then continue with the registration via our Smartphone, which will be very useful because it will also allow us to scan our documents.
Crypto.com requires minimal and essential information about us, which is imposed by international KYC practices and not by the exchange itself. We enter all the information that is requested of us and continue with the registration. A note on Mail: we use a real address to which we actually have access.
Like all legal exchanges and those that follow the laws, Crypto.com must register our document and verify the correspondence with the general information we have provided. Also in this sense, Crypto.com is at the top. In fact, within the registration process, we can easily scan our document, with a procedure that follows us step by step. Once the front and the back are done, a few seconds will pass before you have an active account.
After following this procedure, our account will be active and we will immediately have all the features of this exchange available. We will be able to switch to the deposit to buy cryptocurrencies – or to use the card directly. Alternatively, we can also transfer the cryptocurrencies that interest us directly to one of the many wallets that Crypto.com makes available to us.
Pay fiat money or cryptocurrencies directly
We have several alternatives to pay capital for the exchange. We can deposit cryptocurrencies directly, proceed with payment by card or even proceed with a bank transfer. The first and third are the cheapest method, although for the first 30 days we will be able to enjoy zero commissions even with card payment.
How to deposit on Crypto.com
We have several channels to deposit on Crypto.com. As we have seen above, the heart of this intermediary is a pure exchange that operates between cryptocurrencies – and which therefore offers perhaps the best infrastructure for crypto deposits.
Deposits in cryptocurrencies
If the cryptocurrencies we want to transfer to Crypto.com are supported by the latter, we will be able to transfer them as if they were a normal wallet. We just need to go to the dashboard, choose Accounts, then Crypto Wallet, and then choose the cryptocurrency we want to deposit. Crypto.com will offer us an address to send them to and then receive them within the due time of the chosen blockchain.
The second opportunity we have to deposit is by card, which offers us a direct purchase of all the cryptocurrencies we have available on Crypto.com. We choose the cryptocurrency that interests us, proceed with the purchase and enter all the details of our card. The exchange will make a withdrawal of 10 cents to verify that our card is active and subsequently will allow us to directly purchase the cryptocurrency that interests us.
To add our current account to the payment options we will have to go to the left column of the website and add the details. We select Country and then the Bank, then the name of the holder (which must coincide with the header of the Crypto.com account), and then the IBAN. The account will be verified with a very small credit and we can then use it for our purchases. Alternatively, for payments in Euros, we can also pay by SEPA transfer, without there being any additional fees of any kind related to this specific service.
How to make a withdrawal with Crypto.com
Crypto.com prefers crypto withdrawals and getting them will not be difficult. We will be able to send everything we need to an external wallet in a few taps. The ability to link your TrustToken or Paxos accounts to receive USD, or US dollars, on your account or card is also active.
Withdraw cryptocurrencies
To withdraw cryptocurrency we will need an external wallet that can host the crypto we want to withdraw. Let's go to Wallet and then Spot. We choose the cryptocurrency we want to withdraw and click on Withdraw. We will be able to choose the Crypto.com App or an external wallet address as the destination.
In the case of the external wallet, we will have to add it by clicking on Add withdrawal address. We enter our wallet address, select the network and we will be ready to withdraw.
Withdraw US dollars via Paxos or TrustWallet
It is the second of the alternatives we have available. We will need to have a deposit with one of the two services and, from there, operate with the unique address that will be provided to us. The operation does not take place – at least not yet – via Crypto.com directly.
How to Buy Cryptocurrencies with Crypto.com: Practical Examples [Step by Step Guide]
The Crypto.com interface is very complex, but it still allows you to buy cryptocurrencies quickly – and therefore to enter the market within seconds and without excessive complications. We will now follow two channels, one from the website and one through the App that this intermediary makes available to us so that we can be sure of knowing how to operate with both channels. We will also pass by the Trading exchange, which is the internal cryptocurrency exchange platform with extremely low costs.
Buy Cryptocurrencies with Crypto.com from the App
To start buying cryptocurrencies through Crypto.com we will need to open a free account (here you also get $25 bonus) at the exchange, following the detailed instructions we have already given in this guide. Once we have opened the account, we can continue with this section of the guide.
CHOOSE THE CRYPTO-CURRENCY THAT INTERESTS US: we will now have to choose the cryptocurrency that we are interested in buying. If it is not in our favorites list in the Dashboard, we will have to go to Monitor and search for it. For our example, we will buy $ SHIB or Shiba Token, one of the strongest tokens of the moment. We go to Monitor and choose from the Shiba Inu list, or we enter the SHIB search engine. We click on the result.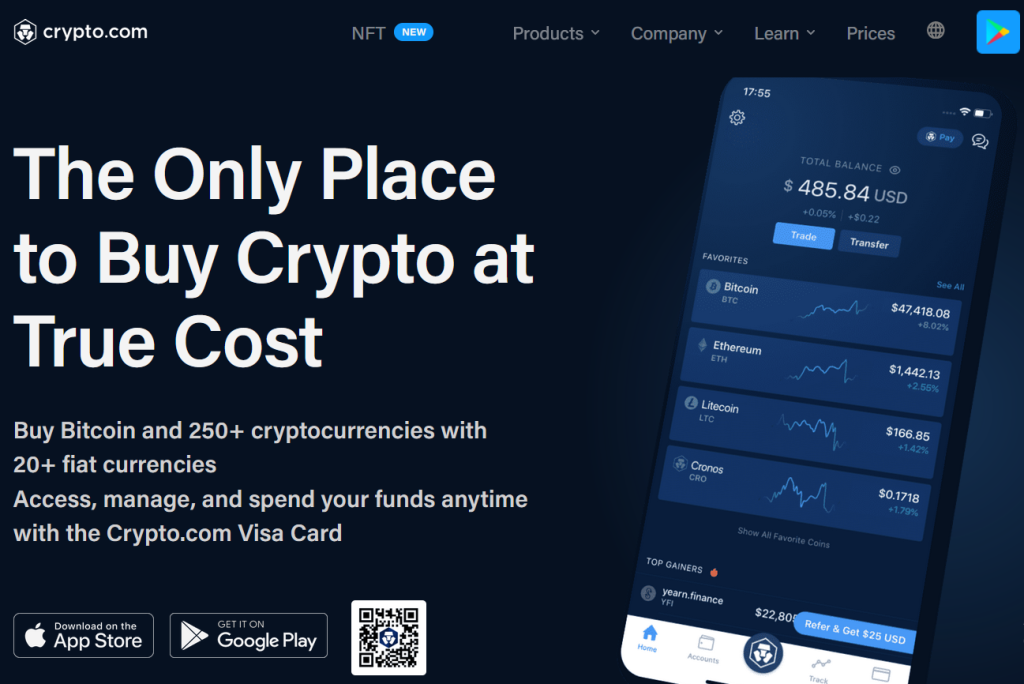 GRAPH AND ORDER: Once we have chosen the cryptocurrency to buy, we will have a graph of the movements of the last few hours in front of us, as well as a button with the word BUY SHIB, as in the infographic that we attach to the order. We can choose to pay by credit card, through our Crypto Wallet, or through the Fiat that we have already deposited by bank transfer. We choose BUY " XXX " SHIB, where XXX is the number of tokens we want to buy and we approve the commissions. Within a few seconds, we will have them directly available on the internal wallet of the exchange of the $ SHIB that we have purchased.
Buy cryptocurrencies on Crypto.com via website exchange
The second alternative we have for buying cryptocurrencies on Crypto.com is via the website and the advanced exchange. We go to the website and choose Spot, to be transferred to the internal exchange. Through the Market Search bar we will be able to identify the couple on which we are interested in trading.
SELECT THE PAIR: this is the first step. In addition to the drop-down menu, we can also choose to operate through the search engine. We choose the pair and the graph will open in front of us that allows us to study, through the integrated services of TradingView, the trend of the token.
ORDER: on the lower right side of the screen we will have an order screen that we can use for humans to invest with a limit order or when a certain price is reached, or market, that is, to immediately enter our order within the market, at the current price. We also enter the amount we are willing to invest in USDT in this case and then click on Buy. In a few fractions of a second, our order will be transferred to the market. Also in this case the procedure is very simple, although relatively complex compared to the purchase through the APP.
Crypto.com costs and fees
Crypto.com is also very competitive on commissions. The costs are practically zero both for paying and withdrawing and also for quick exchanges we are at fee levels that other exchanges cannot support. Those who do a lot of trades even within the same day will find the Crypto.com commission plan very advantageous.
The commissions to and from crypto are zero
Crypto.com does not earn commissions from our deposits directly into cryptocurrencies. Depending on the blockchain that we are actually using, however, it does not mean that we will not have anything to pay. Let's first find out about the transfer costs of the related blockchain.
There are no additional fees for crypto withdrawal
Also in this case there are no additional commissions and only those, inevitable, of the blockchain we are using, will be charged.
Prelievo con Paxos or TrustWallet
In that case, the commissions that are provided directly by the services themselves will be authentic. It is not possible to limit this type of commission through Crypto.com.
Crypto.com's commissions regarding the exchange itself are very complex, and start from a maximum of 0.4% for makers and takers, up to a minimum of 0.04% and 0.1% for those who exceed $ 200,000,000 of trading in one month. For anyone staking over $ 50 million CRO we will find ourselves paying zero. Certainly a considerable sum of tokens to lock – which is not within everyone's reach.
Overall, the fees charged by Crypto.com are extremely competitive and allow everyone to enjoy the exchange without the fees eroding any potential earnings.
Crypto.com Wallet: How Does It Work? Review
In addition to the DeFi Wallet App – which will still be the subject of our in-depth review, the Crypto.com Exchange offers anyone who opens a free account (here you also get a $ 25 bonus an internal wallet that you can use without limitations for the custody of your own cryptocurrencies.
We do not have the private keys of our wallet available with the service already integrated within the exchange. Therefore, on average, it is a service that, at least for security maximalists, should always be integrated with an external wallet.
Quick access to withdrawals and deposits
For each of the wallets that are integrated within what is offered by this exchange, a unique address is available that we can use to deposit all the cryptocurrencies that we are interested in depositing at no cost. Always to the same wallet we will be able to transfer our coins to external addresses.
Crypto.com Earn: What staking is and how it works
The Stake & Earn section of Crypto.com is dedicated, as can be easily deduced from the name to the staking of cryptocurrencies directly within our account, via the website, or even via the App. A system, however, is also, decidedly more articulated than the average of similar services offered by other exchanges.
It is the first screen we will have in front of us when we access the Stake & Earn section. Here we can in fact stack the reference cryptocurrency of the internal network, which is linked both to returns in percentage and instead to what is offered by the exchange in other specific areas.
Staking our CRO $ (also Cryptonasa.com has invested in CRO – they are present in our crypto-wallet ) is easy. Just click on the appropriate CRO Stake button and enter the personalized amount that we want to "block" on the platform. Within a few seconds, the amounts indicated by us will be staking for 180 days. The APR is 10% and the interest will, from that moment on, be paid daily to our internal wallet.
This type of staking also allows you to get important discounts for commissions. Already with $ 5,000 CRO we have an average drop in commissions of 10%, with 10,000 of 20%, with 50,000 $ CRO of 40% up to completely reduce them for those who exceed $ 50 million CRO in staking.
It is the second opportunity we have available to earn passive income through our cryptocurrencies. With this system, we can also earn from cryptocurrencies that traditionally do not offer staking rewards, because they do not operate on PoS protocols. For example, through Crypto.com soft staking – go here to get a free account with a $ 25 bonus – we can get rewards from Bitcoin, Ripple, but also Litecoin, USD Coin, Tether, and many others.
The annuity levels are not fixed and can be changed during the course by the exchange. In addition, even for this specific service, we will have several advantages if we have staking $ CRO as we have seen in the previous section. As the threshold that we will have put in staking increases, the percentages that Crypto.com pours into our pockets will also increase. This is also a significant advantage for those who choose to stake through this intermediary.
Classic staking is not present
Something that in reality exchanges generally offer only on highly selected cryptocurrencies or when they want to support a certain project. Overall, there is no possibility of directly accessing the staking operations managed in a blockchain, but there is an additional layer managed by Crypto.com. Is that a problem? Not necessarily, because in reality, it is a very common way of operating on cryptocurrency exchanges.
Crypto.com Supercharger: What is it and how does it work? Benefits and how to do it
The supercharger is one of the exclusive services of Crypto.com – which allows you to receive rewards directly in the most interesting decentralized finance tokens of the moment, usually in a double period of 30 + 30 days. A relatively complex – and often very convenient – system that provides for the blocking of $ CRO in a specific 7 pool, which we can do directly through the Crypto.com app or website.
The first step in accessing what the Supercharger is offering is to have an account with Crypto.com – open it here to receive a $ 25 bonus upon signing up. Once we have opened the account and we have the CROs available to deposit, we will be able to participate in active campaigns from time to time.
There are generally one or two active campaigns simultaneously, in which we will be able to participate. The campaigns rotate quite rapidly, offering practically everyone the opportunity to invest in the tokens in which they have the greatest interest.

The returns of the Supercharger
They are variable and depend on our liquidity share of total liquidity – a bit like in classic staking. The fewer the participants, the more important our share will be. The larger the total capital, the less our total reward will be.
It occurs at the beginning of the so-called Charging period which is 30 days. At the close of the aforementioned period, the exchange will calculate the ratio between the cryptocurrency covered by the Supercharger and USDT.
The (automatic) calculation of our liquidity portion
The liquidity in $ CRO on the total that we will have deposited will be relevant, calculated with a weighted average over the entire Charging period. We can also modify it and increase it, but this will not be valid for the entire period, but only in relation to the days during which we have kept the tokens on the special only.
The fraction of liquidity for which we will have been responsible will help to calculate how much we have available then of the total reward, which is declared at the opening. If there are, let's take the example, 100,000 tokens available and our total share is 0.1% of the total, we will be entitled to 100 reward tokens. The calculation is always done by the exchange.
Is it a convenient system?
Almost always yes, provided however that you want to hold $ CRO for the entire period, with the associated price fluctuations. Those with $ CRO to put to good use will be able to passively earn attractive sums, with a relatively low-risk downside – mainly due to price fluctuations.
The value of $ CRO is also based on these initiatives
Those who are holders of $ CRO should have understood, at this point, the very essence of this token, which is involved in so many initiatives by this broker has a very high intrinsic value. The fortunes of the price of Crypto.com Coin are linked precisely to the fact that it can be used effectively within the exchange.
Crypto.com DeFi app: how it works and is used
In addition to the exchange App, the Crypto.com exchange has a parallel Defi Wallet App which functions as a pure cryptocurrency wallet.
Within the DeFi wallet, we not only find support for the best tokens in the world of decentralized finance but all the most common coins. We will thus be able to choose to host practically any cryptocurrency we have in our portfolio.
Complete control of the keys
Which not all App Wallets offer. This means having complete control of their cryptocurrencies, which are never in the possession of Crypto.com. Ideal for the most demanding in terms of safety.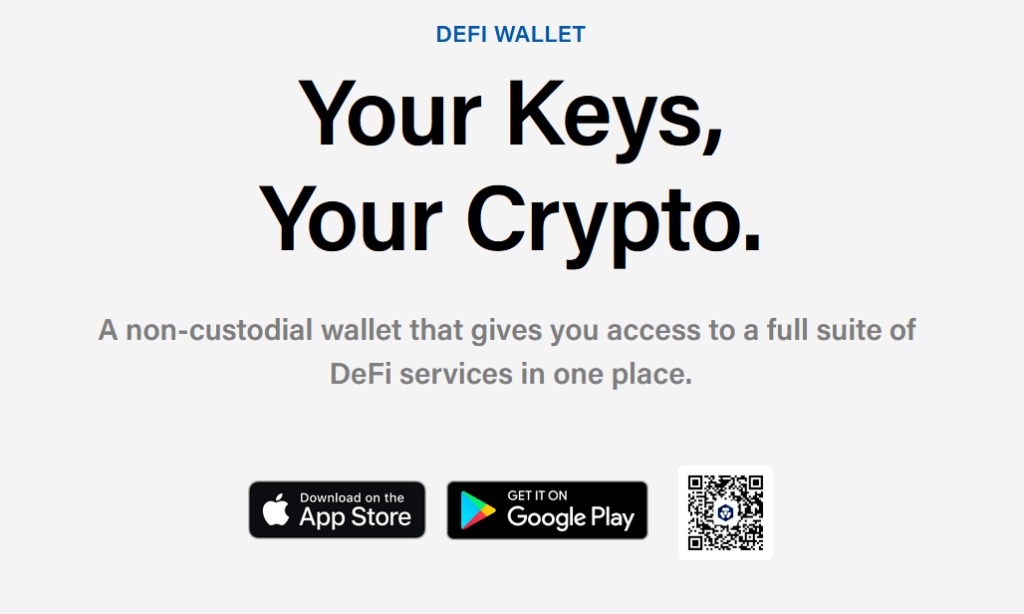 Those who want to transfer their cryptocurrencies held on Crypto.com here do not pay anything, not even the fees normally provided for by the reference blockchain. This is also a great convenience for an exchange. We will be able to take "out" everything we want without spending anything.
Support for AAVE, Compound and other staking protocols
There is full support for protocols like AAVE, Yearn Crypto.com Chain Staking, and even Cosmos. Thus we will be able to rent our cryptocurrencies on the best liquidity protocols in the world and obtain the highest rewards.
State-of-the-art encryption protocols are present, and 2FA is also implemented via Google and also biometric unlocking, with our face. For an additional level of security to that of classic passwords.
Crypto.com card reviews: Cashback, free services and more…
The cards linked to our crypto account are one of the exclusives of Crypto.com. Although other exchanges offer similar services, none of them are able to offer such a detailed and convenient offer, which includes different types of benefits, from cashback to discounts on airport lounges, including Netflix and Spotify.
A premise: to get the cards of the levels above the basic one – we will have to have a certain amount of $ CRO in staking for several weeks, in a program that at its highest levels was born precisely to reward those who trust the Crypto ecosystem .com.
It is a modality linked to cards in general that is also having a certain diffusion in our country. In a nutshell, we will receive back a part of what we have spent through the card. With Crypto.com – even for those who open an account now and don't have a lot of CRO $ to lock – there are very interesting cashbacks.
To attract even more customers to the $ CRO Lock, which helps raise its price – Crypto.com, with some card profiles also offers full subscription payment for Netflix and Spotify. This is a major advantage for card users – which is close to € 30 per month saved.
It is another of the services that are included for free in some card profiles offered by Crypto.com, even if only for those that are more difficult to obtain.
For the wealthiest who choose to proceed with this exchange for the management of large sums of money. The airport lounge is certainly more accessible, while the special agreement with jet charter companies is only available on the Obsidian card.
Obsidian Crypto.com
It is the most exclusive card among those offered by Crypto.com. To access it, we must have at least 6 months staking an equivalent value of $ 400,000 in $ CRO. A sum that is certainly not within everyone's reach, but which offers incredible advantages, as is evident from what we report in the table.
| CARTA CRYPTO.COM | OBSIDIAN |
| --- | --- |
| 💰Cash back: | 8% |
| 🤑 Stake Rewards : | 12% in CRO |
| Lounge Aeroporto: | Yes |
| Netflix Free : | Yes |
| Spotify Free : | Yes |
Features Crypto.com Obsidian card
In addition to the features shown in the table, we also have 100% coverage for Amazon Prime, + 10% discounts on Expedia and Airbnb, the Lounge Key service with the possibility of having a guest, access to Crypto.com Private, additional rewards, a package with the merchandising of the exchange inside. Closes the incredible list of benefits that are linked to the most exclusive of Crypto.com cards.
Rose Gold / Icy Whyte
It is the second-largest group of cards for the quality of the benefits that are offered. Let's talk about a group because for this level we can choose between the coloration in Rose Gold or Ice White. The benefits, although lower than what we can have with Obsidian, are still very interesting.
| CARTA CRYPTO.COM | ROSE GOLD + ICY WHITE |
| --- | --- |
| 💰Cash back: | 5% |
| 🤑 Stake Rewards : | 12% in CRO |
| Lounge Aeroporto: | Yes |
| Netflix Free : | Yes |
| Spotify Free : | Yes |
Features Crypto.com Frosted Rose & Icy White card
The basic services included are virtually identical, with the difference that this level can be reached with "only" $ 40,000 of staking in $ CRO. We will also not have the agreement with the Private Jet company, while we will still have access to Amazon Prime, special rewards, as well as the exclusive merchandising pack.
Royal Indigo / Jade Green
The third block of Crypto.com cards is starting to be much more accessible since in this case, we will only need € 3,500 in staking for at least 180 days on $ CRO.
| CARTA CRYPTO.COM | ROYAL INDIGO / JADE GREEN |
| --- | --- |
| 💰Cash back: | 3% |
| 🤑 Stake Rewards : | 10% in CRO |
| Lounge Aeroporto: | Yes |
| Netflix Free : | Yes |
| Spotify Free : | Yes |
Features Crypto.com Royal Indigo & Jade Green card
However, the services offered remain important. Because we have Netflix, Spotify, and Airport Lounges for free, no annual fees and no delivery charges. A more accessible card, but still with a rather high minimum amount. In all likelihood, the vast majority of average users will use the next one, the Ruby Steel.
Ruby Steel
To get the Ruby Steel card offered by Crypto.com we need to invest € 350 staking $ CRO for at least 6 months and then apply.
| CARTA CRYPTO.COM | RUBY STEEL |
| --- | --- |
| 💰Cash back: | 2% |
| 🤑 Stake Rewards : | Classic |
| Lounge Aeroporto: | No 🔴 |
| Netflix Free : | No 🔴 |
| Spotify Free : | Yes |
Features Crypto.com Ruby Steel card
There are not many additional services present, although we can still get a refunded Netflix subscription. However, we already have an interesting cashback of 2% on all the sums we will spend through this card.
Midnight Blue
The Midnight Blue is the classic card that we can always request without any kind of limitation. It does not have specific services, but it is still a VISA card accepted all over the world and through which we can spend our crypto in all the shops in the world.
| CARTA CRYPTO.COM | MIDNIGHT BLUE |
| --- | --- |
| 💰Cash back: | 1% |
| 🤑 Stake Rewards : | Classic |
| Lounge Aeroporto: | No 🔴 |
| Netflix Free : | No 🔴 |
| Spotify Free : | No 🔴 |
Features Midnight Blue card from Crypto.com
The Cashback proposed is 1%, significantly lower than that of the other products – but this is inevitable for a service that is completely free and does not require any kind of commitment on our part.
Apply for your card on the official Crypto.com website.
Crypto.com iOS and Android apps: how they work + Download
Crypto.com is a system also created to work on the move and it does so by using two Apps, one for Android, and one for iOS (and therefore for iPhone) that we can use to access all the services offered by this intermediary.
The Crypto.com Exchange APP interface is designed to be easy to read even on small screens such as those of smartphones. We have a customizable Dashboard and a basic bar through which to access all the exchange's services.
Since the smartphone is now a payment tool that we use very frequently, the whole Crypto.com Pay system is accessible directly from within the App, with a shortcut that is present on the main screen. By clicking on it we will be able to choose to buy gift cards, to recharge our phone through the Airtime service, scan the QR Code to pay at the merchants that support Crypto.com, or even send money to our friends.
Cryptocurrency information
There are also single cards for each of the cryptocurrencies that are supported by Crypto.com. By clicking on the name of the cryptocurrency we will have access to a complete chart, which also reports information such as market cap, ranking, volumes in the last 24 hours, historical maximum, return on investment, record price, and a number of tokens in circulation.
Also through this screen, we will be able to quickly buy the cryptocurrency that interests us. Just click on Buy, choose the payment method, and then find how much we have purchased on the internal wallet.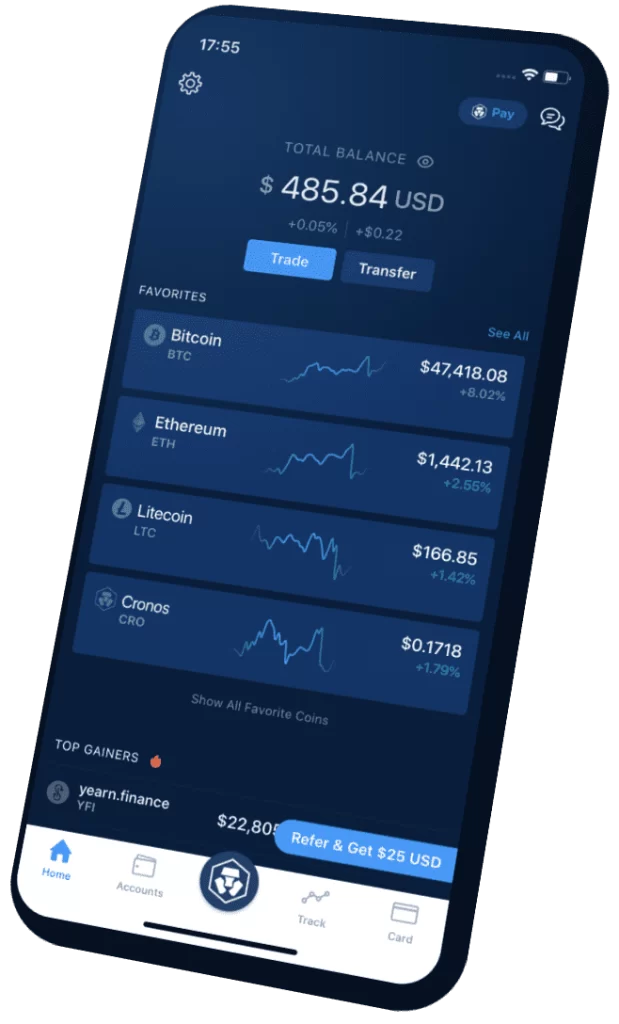 Through the Accounts Tab, it is possible to access our Crypto Wallet, as well as the money we have directly on the Exchange, or in Lock on the Earn section, or even to our Fiat Wallet – or the classic Euro wallet we have on the platform. Also through this section, it will be possible to request Crypto.com cards, depending on the rights we have acquired through the App.
It is the section through which we can access the analysis tools on cryptocurrencies. A screen with a quick search, or that we can consult through a menu well organized by market capitalization. By clicking on the single cryptocurrency, we will have access to the same information that we have indicated in the " Cryptocurrency Information " section.
As regards the Card Section, on the other hand, we find both the possibility to choose the card and, once we have obtained it, to manage every type of limit and functionality step by step.
For those who need access to services such as Supercharger, Credit, or Earn, the central button is available, which allows us to access a menu that is not immediately visible but where the information is well organized. We, therefore, have a double system made up of DashBoard and a classic website-style menu – so that we can allow everyone to move according to their needs and attitudes.
Download the Crypto.com App
Crypto.com offers its Apps through the Official Stores of each operating system, or the Google Play Store – or the Apple AppStore. This is a further guarantee of the security of the App that we are going to download – given that there will also be the controls of the direct managers of the ecosystems.
Whether the capital we intend to invest with Crypto.com is small or large – as far as security is concerned, we can not ignore the highest standards. Crypto.com confirms itself perfectly in line with the state of the art also in this case, because it allows you to take advantage of the maximum encryption to protect your data and an excellent login system.
We can tie our login to a password and PIN or – more secure – to our biometric data. In any case, for the relevant movements, Crypto.com will refer to the AUTH-CODE to be obtained through the specific Google App – and may also request a one-time PIN sent by email. Our Crypto-denari is more than safe.
Visit the official Crypto.com website here.
Crypto.com Pay: useful information
Crypto.com Pay is a direct payment service, using a QR code, which allows you to use your Crypto.com account for everyday payments.
A very simple to implement SDK system is available, which allows you to present your account directly to the cashier. Alternatively, these QR Codes can also be entered directly on the invoice.
There are also systems that allow you to get substantial discounts at various activities – and remote payments directly in the App. For example, we can pay for phone recharging, just as we can also pay for fuel – Q8 is almost always present among the offers available.
There are also cyclical discounts at certain activities – which allow us to buy what we would buy even in the absence of an account on Crypto.com but at more advantageous prices.
Integration with websites
It should be remembered that there is also a checkout integration for WooCommerce, one of the most used platforms by online sellers. Those who sell their products online and use this platform can easily integrate Crypto.com Pay .
Reward program and refer a friend to Crypto.com
Crypto.com uses very aggressive marketing strategies, with bonuses also given to those who invite friends to use the platform. In fact, $ 25 is given away for each friend invited to the platform – with no limits whatsoever on how much bonus we can accumulate.
Upon registration, we will receive a referral code that we can ask our friends to enter during the registration phase – so that they can also get a $ 25 bonus. We will then receive the bonus whenever one of the friends we have invited stakes the amount necessary to obtain a Ruby card, or at today's levels of 350 € in staking.
Is Crypto.com reliable or a scam? Opinions
Crypto.com is not a scam: it is a well-known, reliable, solid, and secure cryptocurrency exchange. We are talking about one of the most important players worldwide in this specific sector – and without a doubt one of those with the best reputation around.
There are no complaints in terms of stolen funds
Even when there are physiological complaints – which we can also find on certain review sites – no one has ever accused Crypto.com of not fulfilling its commitments. The funds are safe and there have been no cases of money or crypto stolen.
We are talking about a company with solid corporate and legal foundations. FIFA World Cup Qatar 2022™ Official Sponsor. Not exactly something that would be within the reach of professional scammers.
We have been testing it for years
We have been testing on Cryptonasa.com for years what Crypto.com has to offer and we are fully satisfied with it in terms of security. Of course, it may not be the ideal exchange for everyone, but this does not mean that we must not recognize its safety. All the services that are offered implemented at the top in terms of security.
Is it worth using Crypto.com to buy cryptocurrencies?
There is no exchange that in the round can cover the needs of any investor. However, Crypto.com has several peculiarities and positive sides, which make it rightfully earn one of the very first positions on a world scale.
The system as a whole is perhaps not the simplest and most linear – but this is due to the choice of including many features, many of which are not always linear for the less experienced. In order to further offer analysis tools to our readers and to facilitate their choice, we have also included pros and cons in summary form.
Crypto.com Pros and Cons
No platform is free of pros and cons and anyone who tells you otherwise is not operating honestly and is actually abdicating their role as a communicator. Also on Crypto.com we have decided to provide a useful summary for the investment – which highlights the points where this exchange is strong in spite of those where it is less strong.
CARDS: the choice of cards is objectively vast. The advantages are all there and not only in the possibility of being able to spend our cryptocurrencies. Cashbacks are substantial – particularly for those who stake large amounts of $ CRO.
PRICE LIST: Crypto.com is one of the most supplied lists in the world and there are several proposals also among the emerging cryptocurrencies or in any case among those that have less following and market capitalization.
PAY: the Pay system also offers excellent offers, which even involve petrol stations. Those who use the service frequently can actually save on everyday expenses as well.
SUPERCHARGER: a really interesting way to make your cryptocurrencies profit, which in two phases offers returns that no other platform is able to offer only for staking or locking our tokens.
STAKING: the rewards on staking are very high – even on cryptocurrencies such as Bitcoin which technically would not offer this possibility. Cash pay is very attractive, particularly on $ CRO.
LENDING: a stablecoin loan program is also active for everyone with the possibility of using cryptocurrencies as collateral. A very innovative service, which for more advanced traders can be a huge advantage.
Even an excellent exchange like Crypto.com has flaws, or rather some angularities with which it is necessary to deal with before choosing it, in particular for certain categories of crypto-investors.
GAIN CALCULATION: although there are many who request it – and we at Crypotonasa.com have also launched a campaign on Twitter – there is still no precise calculation of our gains compared to purchase prices. For those who manage complex portfolios, this can be a problem.
INTERFACE COMPLEXITY: compared to other more "basic" exchanges, Crypto.com presents a certain complexity also in terms of interface. Using it may not be the easiest thing in the world, for those who are not very experienced.
NO WITHDRAWALS IN EURO: making withdrawals in fiat currency is objectively complex. This is nothing new for exchanges, several of which prefer to operate crypto to crypto. However, it can be a difficulty for those who want to make spot investments and immediately return in Euros to their account.
| | |
| --- | --- |
| 👍 PRO AT CRYPTO.COM | 👎 AGAINST CRYPTO.COM |
| Profitable staking | No gain calculation from the beginning |
| Payment cards | No withdrawals in Euros |
| Lending | Too complex interface for someone |
| Rich price list | |
| Supercharger | |
Pros and cons of Crypto.com according to our analysts
Crypto.com opinions and real customer reviews 2023
In order to make our review even broader and more reliable, we also include real customer reviews and third-party opinions, to allow everyone to be confronted with a much broader and more solid opinion base on Crypto.com. We will use TrustPilot – which has always been a platform of excellence for collecting opinions on the best web services and forums that deal with Crypto.com – so as to decide before opening an account with the exchange whether or not to proceed.
Crypto.com TrustPilot Testimonials and Opinions
TrustPilot is a good service for those who want to evaluate the reliability of an online and offline service. We can therefore choose it to also evaluate Crypto.com and learn more about the experiences of people who have used it against us, albeit with some additional attention.
There are in fact several black marketing strategies that unfortunately are used by much less famous Exchange to discredit the work done by this broker. The score at the moment is not the highest, or 2.3, but affected by a wave of old negative reviews, all towards problems related to credit transfers.
Problems we have never encountered while using the App or the exchange via the website. The fact remains that they appear to be somewhat suspicious reviews – and many of them the same. Crypto.com customer service takes care to respond anyway also through this channel.
Forum Crypto.com
There are several forums that we can consult if we want to learn more about Crypto.com services – we have selected the best ones that deal with cryptocurrencies and that also offer scrutiny of the best exchanges operating around the world.
Reddit /r/Cryptocurrency/
Among the many Subreddits that deal with cryptocurrencies, this is the most reliable and also the most popular for those who want to invest in cryptocurrencies. We often talk about Crypto.com and we can also decide to search for individual threads through the practical internal search engine. The top to find out more.
It is the historical forum of Bitcoin, where today we also talk about altcoins and unconventional investments. There is also excellent insight into the exchanges that we can use to learn more about intermediaries and Crypto.com.
Although it is more dedicated to mining and investing, this forum still offers excellent discussion points on Crypto.com and other top-level exchanges on a global scale. Our advice is to always take this into consideration when we are deciding whether or not to use a particular service.
Facebook Groups Reviews on Crypto.com
There are several Facebook groups that we can follow and join if we are interested in Crypto.com – both before becoming a customer and afterward.
It is an independent community and therefore not managed directly by the exchange. Open discussions and no type of censorship by the organizers, for a discussion in the utmost frankness on all aspects of the exchange.
Crypto.com and CRO coin (Unofficial)
Another very popular community, which gathers many investors who use this exchange and who also have $ CRO in Staking – the discussion is also for those who are interested, financial. For this reason
Opinion and final judgment of Cryptonasa.com on Cryptonasa.com
Crypto.com is one of the fastest growing exchanges – and it is doing so not only for the important advertising campaigns it has set up, but also for the services offered and the convenience of transactions.
In our view, it could continue to erode even more market shares important to the major players in the crypto sector. Definitely not a fallback alternative – because Crypto.com today has all the cards on the table to play on par with the sacred monsters of the industry.
Crypto.com: useful numbers [Headquarters, contacts, and customer assistance]
Crypto.com offers direct online assistance. For those who already have an account, you can access the Chat service, which is among the most responsive in the world and which usually responds within a few minutes. The same goes for the generic email contact@crypto.com.
However, direct contact is rarely essential, because the exchange also provides us with an extensive FAQ and a problem-solving center that we can use independently most of the time to get answers to our problems.
Final remarks
Crypto.com arrived slightly behind the major exchanges – albeit following an explosive growth trajectory. Very important collaborations, such as those with various sports teams – FIFA World Cup Qatar 2022™ Official Sponsor – are boosting the visibility of the exchange, making it a true pop culture phenomenon.
With a lot of substance behind it: because as we have seen in the course of our complete review, we are actually in front of an exchange of great substance and quality, with exclusive services that are often cheaper than those offered by the best-known names. For us it is passed with full marks, also taking into account what it can offer exclusively and that we will not find elsewhere.
Crypto.com Exchange FAQ: Common Questions and Answers
Is Crypto.com a reliable exchange? Yes, Crypto.com ( get the $ 25 free bonus here ) is a trustworthy exchange. It has a verifiable location, a high reputation among those who used it and there are no reports of any kind regarding any shortages. The exchange's IT security is also top-notch.
How much does it cost to trade with Crypto.com? In reality, the costs are variable depending on our monthly trading volumes and depending on the amount of  $ CRO staking on our account. Those who invest large sums can operate with zero commissions.
Does Crypto.com offer a card? Crypto.com has a different-level payment card program that allows us to pay anywhere with our  crypto balance  and also to get  special cashbacks and  discounts. Depending on the amount of  $ CRO in staking we can obtain different privileges.
Does Crypto.com have its own cryptocurrency? Yes, it's called Crypto.com Coin and it's used to get salaries from staking , for protocol governance and also to get additional benefits on the platform. It is through $ CRO that we get the initial $ 25 bonus .
Does Crypto.com provide bonuses for new members ? Yes. Crypto.com offers a $ 25 bonus account to new members. To get it, just sign up from this page and then overcome the very low staking limits on the platform.
Can we staking through Crypto.com? Yes. There are programs to earn income from virtually all cryptocurrencies in existence – among those with the largest market capitalization, even if their protocol does not provide for staking. For example, it is also possible to get returns from Bitcoin .
Is it possible to invest with leverage on Crypto.com? Users can trade Perpetual and Futures Contracts with up to 100X leverage. The maximum amount of leverage made available depends on the total exposure to Crypto.com. The larger the position, the lower the leverage allowed. Total exposure includes open positions and open orders.